At St. George's Episcopal School, a playground overhaul was overdue. When the school approached Maas Verde, our designers would be a big project — the existing grounds covered over two acres, but fell short of inspiring, with outdated play fixtures and degraded surfaces.
Administrators at St. George's, a nonprofit preschool planted in Austin's landmark Cherrywood neighborhood, were eager to see long-deferred plans become reality. The earliest drawings to redesign the playground dated to the mid-2010s.
The project's eventual success owes principally to one woman with a strong background in early childhood education and nature play — Jerri Thompson, St. George's Head of School. Thompson has devoted her 40-year career to helping children learn through curated exposure to nature.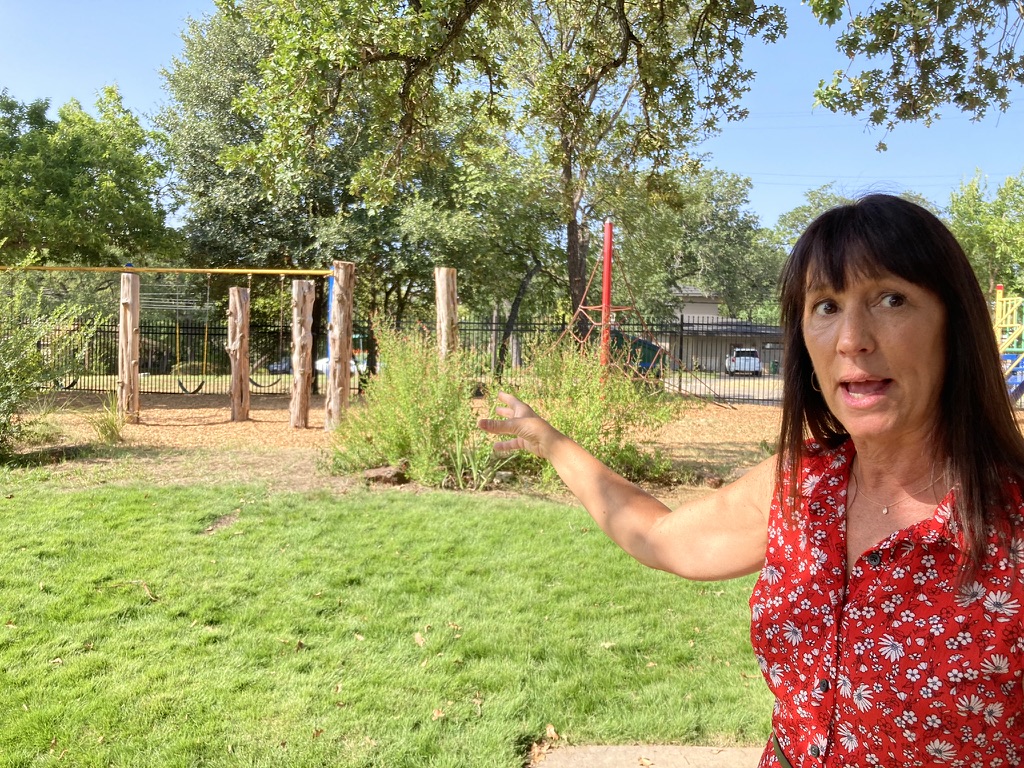 St. George's didn't want just any playground. Students from 3 months old through pre-kindergarten develop skills from problem solving, creative thinking, math and science education, and even negotiation skills both on a curriculum basis and independently on the updated schoolgrounds.
Thompson explained that learning through nature, with appropriate safety measures in place, is critical to this growth.
"Any school that I've worked in, I've always been interested in making the outdoors part of our curriculum. This is the most updated methodology in early childhood [education] — create a welcoming space that calls to children, is safe, and is a learning environment," she said.
Experts Join Forces
Prepared to make a big investment, St. George's sought a contractor they could count on. Maas Verde was prepared to meet the challenge with its in-house natural playground designer, Marc Opperman.
Opperman brought more than a decade of playground design experience, including specialty knowledge of safety certifications, to the job site.
He saw unique potential to showcase his and Maas Verde's abilities at St. George, which was mostly a blank slate. "There were pieces of a comprehensive design that had been drawn by me, pieces that had been drawn by others — but nothing complete," Opperman explained.
But Opperman had interfaced closely with Thompson, who held a vision for St. George's playground in detail that was both foundational and intimate.
"Without the right ideas and resources, 'natural play' situations can turn into yards with makeshift structures and scattered toys," Thompson said. "Marc saw my vision, and understood it and the safety requirements."
St. George's outdoor space breaks down into four main areas: three playgrounds designed for kids in different age brackets, and an entryway area with a fountain (and eventually, Thompson plans, a sculpture garden).
Concept and Implementation
Meeting the school's expectations and communicating them to the Maas Verde crew raised a creative challenge.
Spoiler alert: The team measured up to it. Starting the first excavation work in mid-March, Maas Verde spent the next eight weeks working on site daily. The final transformation featured log-and-lumber pergolas, log climbing structures, lawns and drainage swales, multiple new trees, shrubs, and planting areas, and even fountains — that all met playground safety regulations.
"Before we started, it had the feel of something made in the '70s — it was kind of neglected. Now, it's not only updated but it's also got all these natural materials," Opperman said.
As the design and its key elements took shape, Maas Verde measured out fall zones for play structures including climbing equipment and swingsets. Opperman chose natural materials that met standards, instead of synthetic options. Borders along the playground's multiple walkways and features are Juniper logs instead of commonly-used segmented plastic edging. And vertical structures like the logs for climbing (fitted with real, commercial-grade resin climbing holds) were tooled for safety: edges chamfered to keep noggins safe and surfaces that could break a fall but still create a consequence.
The toddler climbing structure is a set of ramp-like cedar logs bolted with industrial-grade resin holds. The structure starts in a pergola-shaded sandpit and ascends a gentle slope. As kids climb up, they build critical upper-body strength as well as confidence. If they fall off, they'll feel it, Thompson said — but there's no serious injury risk.
Two cambered "race tracks" function the same way. Toddlers and infants race toy vehicles down the slopes, tightening their cores and honing their spatial reasoning. Runout zones are grass and mulch berms.
The concept is "risky play." Given age-appropriate risks, kids are free to make their own choices — rather than being told "no" without understanding why.
To reduce those "no's" and improve overall safety, artificial surfaces and exhausted fixtures came out. Maas Verde removed astroturf and rubber bumpers surrounding a playscape, replacing it with a mulch bed and the site's signature log borders. A shade sail that was supposed to protect one area of the infant playground had failed, so a pergola replaced it. And bright white play sand replaced gravely, gritty mixtures in pits. 
'The Vision' of a Considerable Career
With any install this big and comprehensive, unforeseen challenges lurk. Maas Verde found hundreds of square feet of unexpected concrete and asphalt buried deep beneath the existing turf. For 12 pallets of sod and dozens of plantings to propagate and thrive, it all had to go.
A drainage flaw surfaced during one heavy rain. In it, water pooled on the playground surface and backflowed toward the main school complex. Maas Verde pivoted on the fly, redrawing plans to build in a grassy swale that would redirect the water back toward absorbent areas of the playground.
Maas Verde also needed to integrate one big, existing feature into the design: a 25-foot-long creek that runs on a solar-powered pump. Built prior to Maas Verde's involvement, it's central to the "big kid" playground but grows weeds prolifically and creates its own drainage challenge. Maas Verde adopts the feature along with the maintenance plan. Far outweighing its imperfections with its character and utility, it puts an exclamation point on the space at large.
"The creek is such a great tool," Thompson said. "Kids love water, and here, they actually control it." Functioning hand pumps feed it up to an inch deep, and kids can float leaf "boats," balance on bridges across it, and monitor plant life.
Carefully-chosen plantings complete the design. Plants should be visually stimulating but tough enough to survive inquisitive, tumbling toddlers.
Kids are also resourceful, Thompson pointed out — left to their own devices, they'll eat anything. Especially a bright-colored, pungent flower. That's why Thompson's staff teaches their students to use their "science eyes" and "science ears," she said. Not everything is for touching.
In Thompson's considerable career, the project is a capstone.
"For me, this is the vision of my entire career. Schools are clamoring to install things like these, and you can see why," Thompson said, then drew my attention to the students.
As Opperman and a crew member troubleshot faulty irrigation heads, children watched with quiet interest. Suddenly, one head popped off its tubing, and a geyser broke forth.
"Remember how much they like water? Watch this," Thompson said, smiling.
At the plastic tables surrounding the spectacle, not one three-to-five year old screamed, ran toward the action, or even stood up from their seat.
They just observed it all — "science eyes" wide open.