Priorities: Permanent Solution For Failed Retaining Wall
Challenges: Maintain Integrity of Walls on Adjacent Properties, Safe Uninstall
Solutions: Methodical Tear-Out Techniques, Sequenced Install
The general contractor that built this client's neighborhood had graded each back yard by installing a retaining wall several feet high with railroad ties.
After thirty-plus years, that structure had failed.
Our client's 63-foot section of the wall had collapsed, creating an unsightly mess and allowing the wildflower garden they had planted above to seep through the resulting cracks.
Maas Verde designed a new cut limestone block wall with a buried deluge drain pipe to permanently resolve the issue. The solution required our team to tear out the 63-foot segment without affecting the adjacent properties. The team would then build the wall to match property grade on top of a poured concrete footer.
Tear-out and construction took only two days.
Safety was a primary concern in removal, since the existing structure was tied together with rusted nine inch nails and potentially harbored ground hornets. Maas Verde cut the ties inside our client's property line strategically, to avoid overburdening ties that were stressed beyond the fence line. Existing fence posts provide backup support for these adjacent walls.
Efficiency was key to the construction process. To seat the wall most securely, our team needed to pour the footer and lay the first course of 6" limestone blocks simultaneously. While one crew operated a mixer and shuttled loads of mixed concrete, another tooled the mixture in the trench, then laid and leveled blocks.
The first course of stones set overnight, and the team returned the next day to complete the perforated drainpipe and finish the dry-set wall. We added tie-backs for structural security, backfilled the terrace, and finished the work with topsoil for planting.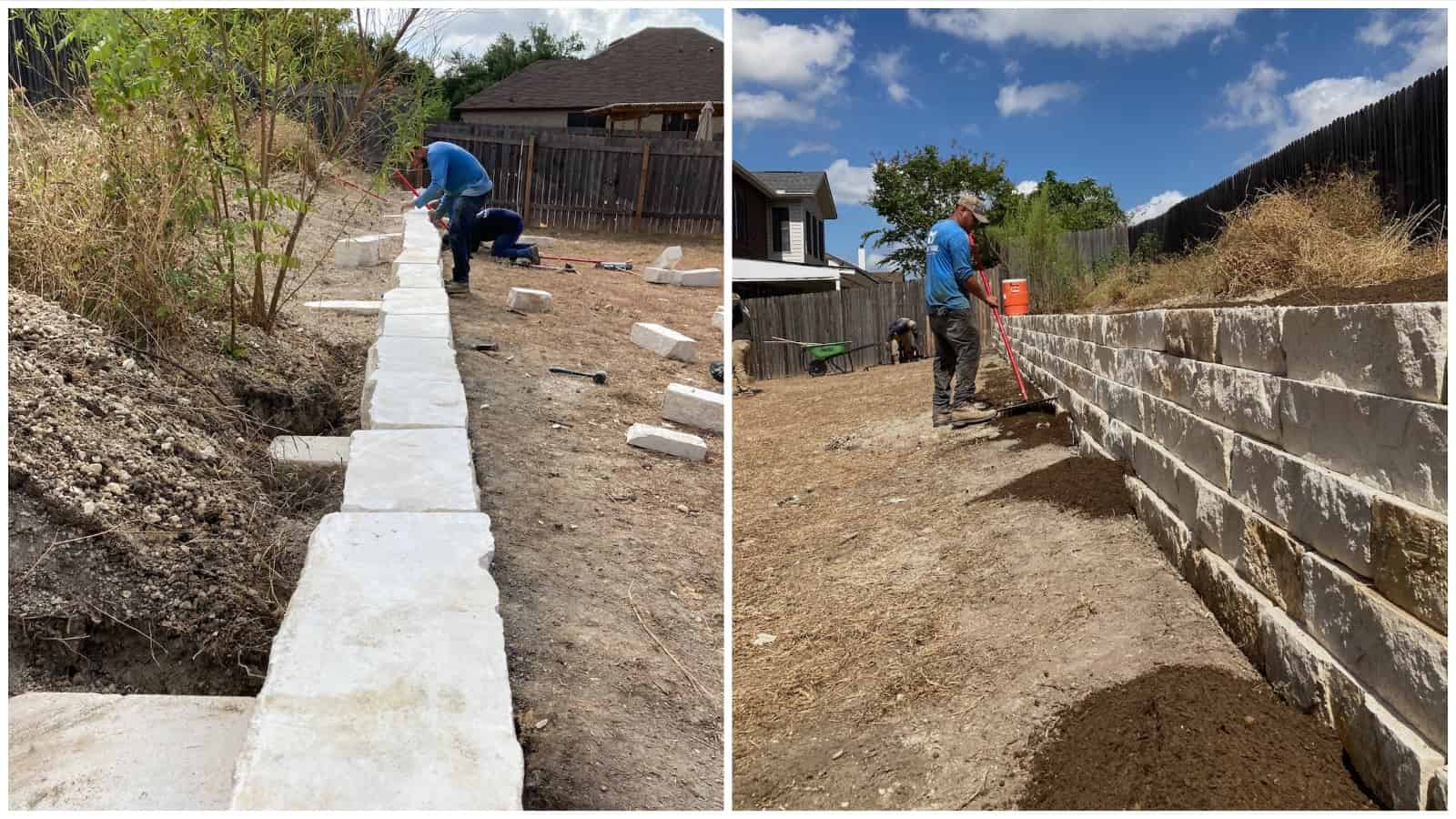 Our team also worked carefully to preserve a Baccharis shrub (B. neglecta) — a native pollinator favorite. An irrigation diagnostic and repair completed the job.