Priorities: – Functional Seating – Aesthetics Match – Access For Elderly Parents
Challenges: – Heavy Shade – Compromised Deck
Solutions: – Steel Fixtures – Shade-Tolerant Natives – Stone Walkways
This project was featured on the 2023 Austin Outdoor Living Tour
Our client approached us with a compact side yard, in need of a comfortable outdoor living area that also complemented their recently-built home. A multi-trunked live oak shaded the small space, which had minimal other plantings and a builder-grade wood deck. The overarching priority was to ease access for the client's aging parents.
Consultation resulted in a scope that centered around enlarging the deck and adding a raised seating area executed in welded steel. The design surrounded the structure with steel planting boxes and trellises, and added Lueders stone pathways to connect the dots.
Right off the bat, our crew ran into trouble: extensive wood rot under the deck. Determining the structure lacked the quality and staying power we wanted to see, rebuilding it from scratch became the only option. New concrete footings, posts, joists, and decking all went in.
The crew then installed fencing along new lines that would create more enclosed space — and open the design for the client's pets with a hog panel-wired doggie window. A new gate completed the access plan.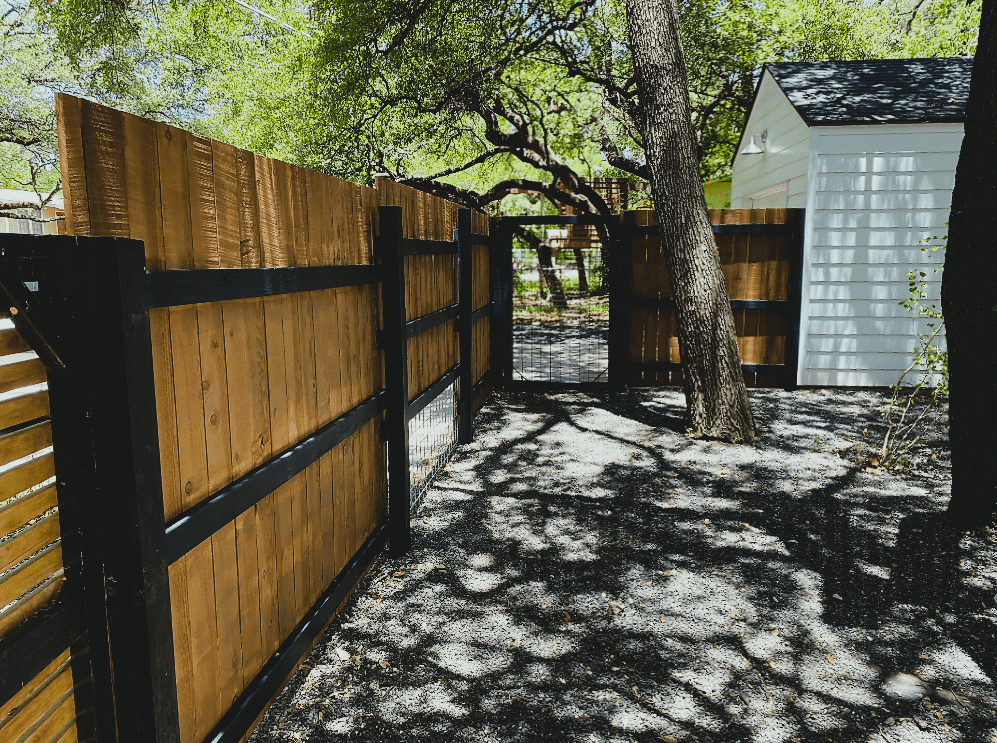 Maas Verde selected tough, shade-tolerant natives like Webberville sedge (Carex perdentata), inland sea oats (Chasmanthium latifolium), yaupon holly (Ilex vomitoria), and turkscap (Malvaviscus arboreus) to foot the live oaks. Coral honeysuckle vines were interlaced into the trellises to soften the edges and create habitat for pollinators like honeybees and hummingbirds. To help the plants get used to their new home, Maas Verde added a simple drip irrigation system.