Priorities: Stabilize Creek Bank – Bioengineered Solution – Army Corps of Engineers Compliance
Challenges: Objective Site Hazards – Downstream Impact – Heavy Equipment Safety and environmental concerns – Heavy Rain Events During Implementation –
Solutions: Mission-Aligned Mindset – Network with Proven/Reliable Subcontractors
Two segments of a tributary of the Colorado River near the Texas coast required stabilization due to increasing erosion concerns. The scope of work existed under a recent Army Corps of Engineers infrastructure project that relied on the creek for functional drainage and stability.
A state government agency and an international engineering firm identified that the two segments, separated along the waterway by about a mile, were important drainage zones. Flood events are common in this watershed. And if the creek overflowed its banks significantly during these events, it could undermine the new infrastructure project at these two critical points.
The prescribed solution was bioengineered. In concept, the project would install riprap toes as foundations for soil lifts along 1,100 linear feet of the existing streambed. Technicians would harvest 32,000+ live willow cuttings from a nearby location and install them in the lift structure for long-term soil stabilization.
The project's designers estimated it would take six months to complete. Maas Verde earned the contract, then vetted and recruited subcontractors, and completed the project one month ahead of schedule, causing zero safety or environmental reportable incidents — despite experiencing two flood events on site during mobilization.
A project debrief follows.
Scope
Key Concept: Encapsulated Soil Lift Construction
Implementation demanded multiple scopes of work.
First, each work site required conditioning and stabilization for safe operation of equipment up to 40,000 lb. excavators and tk dump trucks. Site preparation also required dewatering and diverting the creek in both areas. At one site, a 45-foot-long, 9-foot diameter culvert installed decades prior to the Army Corps of Engineers' involvement would need to be removed.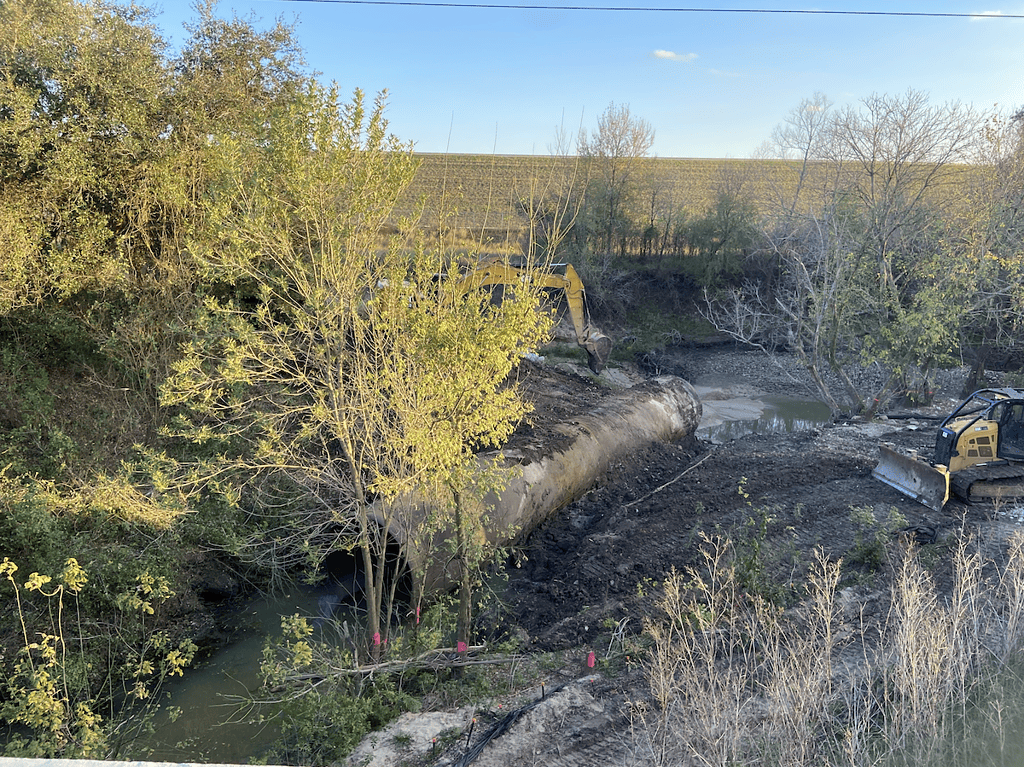 Reshaping and regrading the streambanks followed. Installation of riprap check dams and toes to spec took place in conjunction with soil lift construction, as operators manipulated excavators closely alongside workers with hand tools. Willow harvesting and install occurred simultaneously.
All cuttings and soil lifts needed irrigation to succeed, which also required a system design. Finally, each site needed restoration from impact. Specifications dictated reseeding five acres of compacted soil, then monitoring both sites to ensure success rate of selected species for one year.
Based several hours away in Austin, Maas Verde would also need to mobilize and demobilize from the site.
Maas Verde Leads Critical Contract Change
Key Concept: Expert Recommendation on Flawed Plan
The clients first issued their request for proposal (RFP) of the streambank stabilization project in January, 2021.
Maas Verde surveyed the materials and scope and recognized a critical issue with the willow cutting timeline.
Maas Verde knew the cuttings needed to be harvested while the plants were dormant. Failure was guaranteed if any contractor took the cuttings while the plants were active. Only one location within a 100-mile radius harbored willows, so it represented the only solution.
The initial RFP specified Feb. 4 as the mobilization date. Maas Verde's president and founder Ted Maas knew from his Master Naturalist training that willows in the region stay dormant until mid-March.
Targeting this critical date while drafting a schedule for the project, Maas realized the harvesting window was too tight. He advised the project designers this was the case. The decision effectively removed Maas Verde from the bidding process, regardless of costs sunk in research and development toward responding to the RFP.
However, the project designers reviewed Maas' findings and realized he was correct. They then bumped the RFP date to August.
When it arrived, Maas Verde picked it back up, incorporating its previous progress. Maas Verde earned the contract and prepared to mobilize on the new date — Nov. 1.
Site Visit and Subcontractor Recruitment
Key Concept: Safety First
Maas Verde visited the job sites throughout August and September. Project managers planned efficient material drop-off areas and evaluated the site for safety and necessary modifications. One high priority involved working around the access road, which had no construction or drainage structures and would not support heavy equipment or material delivery during any rain event. Another key task was to create stable pads for excavators along the streambed.
Maas evaluated subcontractor candidates with safety as a primary concern. Equipment operators for a small local company stood out and earned a contract. Maas Verde also signed a contractor from outside the state with strong soil lift construction experience.
Building sound relationships with nearby equipment dealers would also factor into Maas Verde's success.
"For most companies, it's a long way to travel," Maas said, noting multiple contractors from Houston and Austin visited the site but eventually balked. "And with an environmentally sensitive work site that's also a safety challenge, it's important to hire the right people."
Mobilization, Site Prep, Dewatering
Key Concept: Take the Time to Create Stable Work Sites
Maas Verde mobilized to the job site as planned on Nov. 1.
Riprap deliveries arrived steadily throughout the month, totaling 1,300 tons. Maas Verde prepared the site by setting up its mobile office, installing silt fence, and preparing to clear and grub key areas.
Maas Verde conducted dewatering and diversion of the creek in-house. The team's dam solution utilized steel I-beams and timbers. After constructing and placing the dam, the team installed a diesel-fueled pump with float valves to regulate water levels upstream and displace overflow downstream.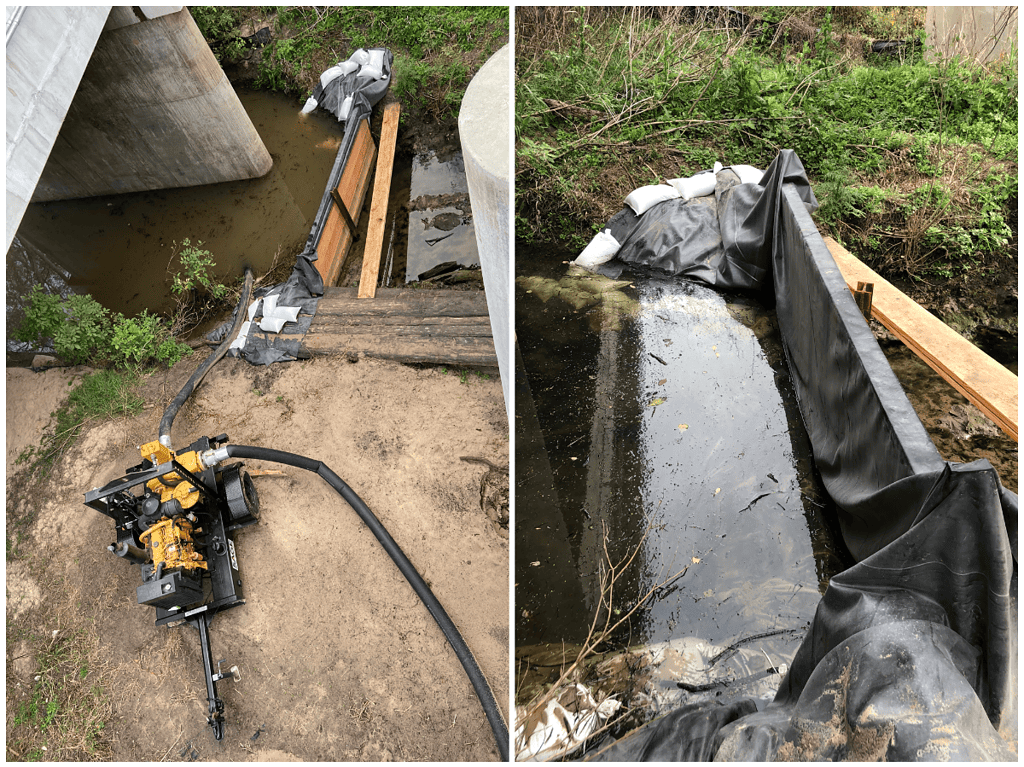 The dam's modular construction later facilitated fast rebuilds after both flood events.
As dewatering proceeded, Maas Verde identified build sites for heavy equipment work benches. Many of these sites exhibited a highly unstable soil structure: Clay topsoil several feet deep slid on top of a sandy layer loose enough to promote measurable water flow. Another clay bed began about 12 feet down.
The soil was essentially "upside down." Maas Verde knew that operating equipment on the sand layer would create a hazard to every worker on site, and performed necessary remediation. Operators cut the sandy layer out to create a wide pit at every bench site, then replaced it with a stable clay mixture. Timber mats were placed on top to distribute weight and create reliable, regular surfaces.
Construction
Key Concept: Sequence Workflow to Keep Crews Tasked
The team first shaped and excavated an existing ditch with six 24" pipe culverts that drained stormwater off roads from a higher elevation. Backfilling it with riprap to promote functioning drainage, Maas Verde then started soil lift construction in the main channel.
Sequencing multiple work scopes across operator and hand tool crews was key to efficiency. Earthwork like shaping and grading came first, then riprap placement (each process involves excavator work only). After that, hand crews worked alongside operators in soil lift construction to lay fabric, pour soil, close the structure, and plant it with willow cuttings.
"As we're doing earthwork and placing riprap in one location, we're rolling out our fabric for our encapsulated lifts in another — to keep moving. It's an orchestra, and the general contractor's job is to conduct it," Maas explained. "What do we need to be doing right now to set us up for the next two days — the next week — and stay on the critical path?"
Maas Verde was committed to taking any extra steps critical to safety, but also knew unpredictable weather could cause time sinks. So while the work was moving forward, it "needed to be seamless," as Maas put it.
Floods Test Project Infrastructure, Methodology
Key Concept: Do Not Leave a Job Site Vulnerable to Severe Weather
Maas Verde had made significant progress at the first work location when two floods ripped through the creekbed.
The early January events tore out the temporary dam we had installed (which was expected, based on the flow rate). But the I-beam and timber construction allowed Maas Verde to reconstruct it quickly and efficiently. Dewatering the work area again, the team found its work still fundamentally intact.
That reflected the attention to detail Maas Verde paid to the project phases. Instead of partially-constructed soil lifts or unsecured work benches, the surging waters plowed through a job site that — though not yet complete — had more finished structures than partial ones.
"Engineers had urged us to ensure our work was 'armored' whenever the forecast got marginal," Maas said. "We kept that advice in mind at the job site, and it became invaluable."
Management rallied subcontractors to stay on task through work schedules that became stringent. Once the dam was reinstalled and the site was workable again, Maas Verde moved fast to minimize progress lost in any further flooding. Morale and safety came into sharper focus as work hours expanded.
The second flood did occur — just two weeks later. And with a further optimized dam design, Maas Verde needed just three days to remediate damage to the site and move forward to completion.
Unstable forecasts created more pressure as Maas Verde transitioned to jobsite two. (One prior contractor had attempted to implement a stabilization project there years before, but a flood ruined their progress and they abandoned the job.)
Systems experience and a simpler jobsite made fast work there. Maas Verde needed just over two weeks to shore up the site and report substantial completion during the first week of February.
Irrigation, Site Restoration, Monitoring Challenges
Key Concept: Follow Through
Maas Verde designed and installed a gravity-fed, 5,000-gallon PVC irrigation system to ensure the cuttings rooted and stabilized the soil lifts. Next, the team decompacted soil in all heavily-impacted areas and moved on to seeding a specified hillside adjacent to jobsite one.
Maas Verde would need to return to the jobsite periodically for one year to monitor success of the grass seed and soil lifts.
Unfortunately, both threatened to fail at first. A spring drought followed the winter floods, and the hillside grass seed (a mix of native grasses and Bermuda) did not propagate. And while the irrigated willows rooted aggressively to the soil lifts, an infestation of dodder vine threatened to choke out the trees at jobsite two.
Maas Verde first addressed the parasitic vine, removing it by hand instead of spraying it to preserve the site's ecological integrity. Volunteer pollinator plants grew below the willows and Maas Verde realized the site now acted as a biodiverse, native habitat.
"Because of our watering efforts, these willows were thriving, and so were these understory plants. And where there would be a stem getting choked out by dodder, there would also be a healthy sprout below it. We knew it could all come back, which was why we didn't spray it," Maas said.
Seeding followed, but not immediately. Because the seed had died even with agricultural-grade sprinkler irrigation, Maas Verde recommended re-addressing it in September. The solution to first spread compost, then seed it with the same grasses, succeeded.
Maas Verde now confirms completion of all project phases and zero reportable safety or environmental issues.